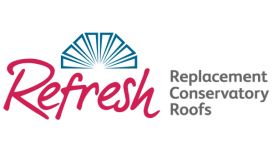 At Refresh Conservatory Roofs, our mission is simple: To ensure our customers have beautiful, comfortable conservatories they can use all year round.
Refresh Roofs is part of the TuffX Group, the UK's largest independent glass processor, specialising in toughened and large span glass formats. TuffX is the UK's only manufacturer of glass in 4 metre spans, which are ideal for use in conservatories to create glazed roofs that require no separator bars and result in clear, uninterrupted views.
We have been pioneers in roof glass for more than 10 years, including developing the first solar control roof glass for conservatory applications. In recent years, our roof glass has been installed in more than 100,000 conservatories nationwide.
Eco Vitro was formed as the installation arm of the group, initially installing glass replacement roofs into conservatories with poorly performing polycarbonate roofs. Further innovation has seen our product range for the conservatory roof replacement market expand, and rebranded as Refresh.
We now offers the broadest collection of conservatory roof replacement options, including the Refresh Duo Roof, a unique combination of solid and glazed sections fro ultimate design flexibility, and our lightweight roof panel replacement option. And, of course, the original Refresh Glass Roof remains immensely popular, offering homeowners the ultimate in light and airy conservatories that can are comfortable throughout the year.
---
Services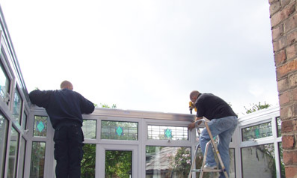 Whether you opt for a new Refresh Glass or Duo roof, or our replacement roof panels, changing your conservatory roof is easier than you may expect. Our excellent team will make it our every endeavour to ensure that the process of changing your conservatory roof is a seamless and hassle-free experience for you.
Depending on the size and complexity of your conservatory roof, the replacement process will normally take one to two days to complete. However, please ensure that all of the blinds are removed and the conservatory is cleared so that our installers can get to work as soon as they arrive. There are more details in the design service about how you can prep beforehand to make it a smoother transition.
We've provided this step-by-step guide to replacing plastic conservatory roof so that you know what to expect:
The first stage involves removing your old polycarbonate roof;
The Conservatory structure is then prepared for the new conservatory roof to be installed;
The new Roof Framework is then built;
New Roof framework is put into place;
The Refresh Roof is installed;
Your Chosen finishing's are fitted;
If you opted for a Duo Roof, the ceiling will be given a beautiful vaulted finish.
Reviews and Ratings
We do not have any reviews about Conservatory Roofs available right now.