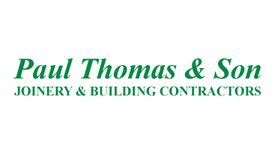 We at Paul Thomas and Son have been trading for over 40 years and pride ourselves on reliability and quality of work. We can carry out all item's of building work with knowledge and experiance, backed with quality sub contractor's of which we have worked along side for many years and trust. We only use quality and time served tradesmen with the appropiate qualifications and certificate's in thier feild's of work, which allow's us to provide a high standard of finish and realiability.
We can provide the full service that is required to take a project from a idea to a finished product, helping you with the local authority and service provider's (gas, electric, water, etc). All work that is undertaken is done under a binding contract signed by both parties, which give's peace of mind and security in knowing what you get. We DO NOT ask for any money's upfront, and work on a 28 day's interim payment method, with a 90 day's retension of 2.5% on completion.
---
Reviews and Ratings
We do not have any reviews about Paul Thomas & Son available right now.