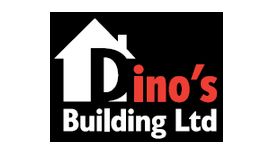 Here at Dino's we pride ourselves on our personal service covering all aspects for both domestic and commercial work. We can complete anything from a smallextension to a full new build. Comprehensive and easy to read quotes are supplied along with our property terms and conditions for each project.
All of our work comes certified with a genuine guarantee by our highly skilled, direct labouring force. Dino's will also supply the materials and equipment needed for the project including all scaffolding and skips. We appreciate that any work carried out on your home may cause disruptions and we aim to keep these interferences to a minimum.
We are closely affiliated with several architects as well as the local councils to ensure that the design and planning of every commercial project is carefully co-ordinated. We ensure that all commercial properties reflect the local surrounding area.
---
Reviews and Ratings
Dave, Wolverhampton, West Midlands
Please do not use this firm.
They will appeal because they are usually the cheapest compared to most other builders, and are very polite and professional prior to getting your custom. But once you contract them to do the work, that's where the fun starts.
They allow you to pay in instalments, which again, is appealing to potential customers.
The job was a 2 storey extension and partial refurb of the existing house.
Right from the beginning, I started to get worried, when they cut through the main electrical cable, so we were out of electricity for 2 days.
The job was 75% completed when the problems started.
During the refurb, they charged me for a lot of extras (roof, canopy, tiling, plastering etc), that you would assume are part of the contract.
Examples of their quality are poor brickwork, poor roofing, various leaks, poor plasterwork, poor tiling.
New floorboards creaking after about 6 months.
They don't come back to rectify anything.
I've been complaining about over a decade. Finally given up, and carrying out repairs my own pocket.
On top of that, received an abusive, threatening, very aggressive call from the Owner, literally swearing at me for over 10 mins.
I've learnt my lesson, hope no one else has to.
Please take note of the reviews on here and yell.co.uk, don't fall for the sales talk.
Also trades as Bantock Homes Ltd.
The actual building staff were ok.